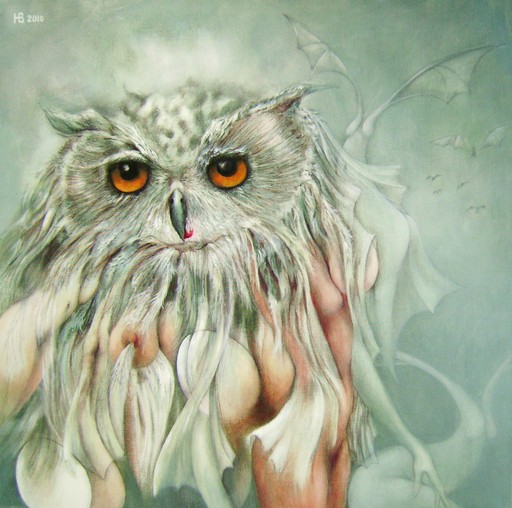 Henk Bloemhof was born in 1945 in Weststellingwerf (The Netherlands). He visited the Public Lyceum in Heerenveen and worked several years as a teacher in Dutch language in Groningen.
But his real passion concerned the art of painting. When his teaching profession came to an end, he started a study in model- and portrait-painting at the Art Center in Groningen.
His first artistic products were surrealistic drawings with (color)pencil. Later on he switched over to paintings in acryl and oil colors.
The fictive world Henk Bloemhof creates, consists of just organic shapes : shapes of plants, animals and human beings and all possible and impossible mixtures of them. Often hybrid creatures as mermaids, sirens and ape-men play a role in his so called "Freudian phantasms".
He also has a fascination for mythological female figures as Circe, Leda, Gaia en Pomona.
When Henk creates his dreamworld he uses realistic means like surrealists and magic realists do.
Artists who inspire him are a.o. the Dutch painters Johfra, Wout Muller en the British painter Waterhouse.
MORE INFORMATION ABOUT HIS WAY OF PAINTING, INTERVIEWS AND EXHIBITIONS ARE TO BE FOUND ON HIS OWN WEBSITE www.henkbloemhof.nl